ACQUIRE THE RIGHT LEADS TO DRIVE MORE SALES, INCREASE PROFITABILITY, AND ELEVATE BRAND RECOGNITION
Experience POWER connects you with the right people to achieve the market share required to make a profit and have explosive growth in power generation.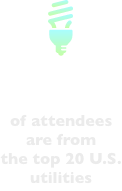 74% of attendees
are end-users,
EPCs, and OEMs:
40%
Generating Companies & Government
19%
OEMs, Manufacturer's Reps, Vendor of Equipment
15%
Engineering/Procurement/Construction
Our database of 190,000+ cuts across the full energy value chain, providing a large audience to increase your reach, touch the right decision-makers, and drive your business forward.

Experience POWER
[Experience POWER is] a great opportunity to make contacts and meet new vendors and suppliers of goods and services and has opened up the opportunity for everyone to exchange information and facts
Melanie Green, Sr. Director of Power Generation, CPS Energy
---

It is by far one of the best conferences we attend during the year, and we always walk away with qualified leads.
Kimberly Garcia, HRSG Product Line Manager, CleaverBrooks
---

[Experience POWER] helps me stay on top of industry trends and new technology, while meeting others who work in the industry. The relationships I have built by attending has helped me work through numerous issues at Plant Scherer. This is a great event!
Johnny Howze, III, Vice President Supply Chain Management — Gas, Generation and Shared Services, Southern Company
---
Experience POWER is the one event the power community can't miss, and the co-location of the Distributed Energy Conference for 2021 means expanded exposure and a broader reach for you.
Reserve your booth and sponsorship today.
Floor Plan | Booth Contract |Event Prospectus | Sponsorship Contract
Contact Todd Cusumano for more information!
+1 713-343-1886 |tcusumano@accessintel.com